A couple of years ago I started a blog on a different website. This was a place where I posted 
one illustration per day. The content was generally related to news articles or something that had 
happened in my personal life. Due to the fact that the other website was becoming rather messy, I came to the conclusion that it would be better to start all over again. I started this website a couple of weeks ago when I was busy creating my portfolio. On this blog I would like to expand on my first idea which is posting illustrations daily. I shall be sharing different things like my workplace, workprocess, thoughts, ideas and sketches. Basically everything that has to do with my creative outlet. My goal is to upload content everyday as a way of forcing myself to publish my work and spreading my content to the world.
This is where the magic happens!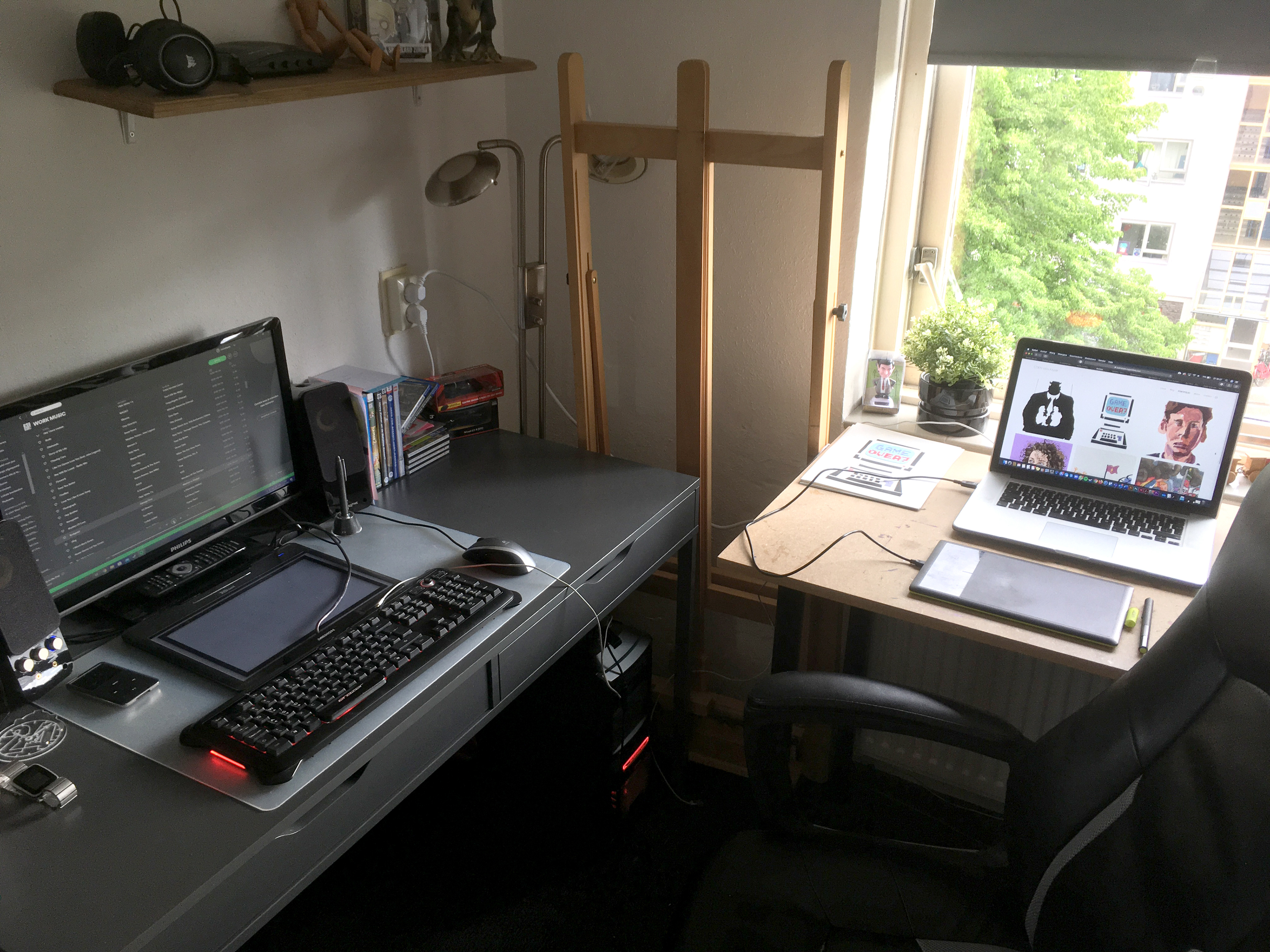 Sometimes you've got to start somewhere right? So why not start my new blog by sharing 
you my workplace? Redecorated a couple of months ago by moving my worktable (
the one on the right with my laptop on it
). After I've done that and some other couple of things, the place became more as a whole. Having a good place to work is one of the most crucial things to have as a creative maker. It's your little bubble where your creativity, fantasy and most of all the process of making your own art comes alive.
As you can see, I have two monitors to work with On the left is the one of my main desktop, on the right is my laptop where I do most of my work on. Why, you might ask? Well, you can see the window with the trees outside don't you? I live in a quite interesting neighborhood. And rather having my eyes becoming squares, I like to gaze outside at times to see what is happening. Living on the top floor of my flat, you have quite a nice overview on the street. You would wonder what happens at times, from old ladies crossing the street to the delivery man waiting for someone to open the door. It's a nice distraction to clear my mind.
Posted on: Tuesday, May 12, 2020
Creating my very first Graphic Novel!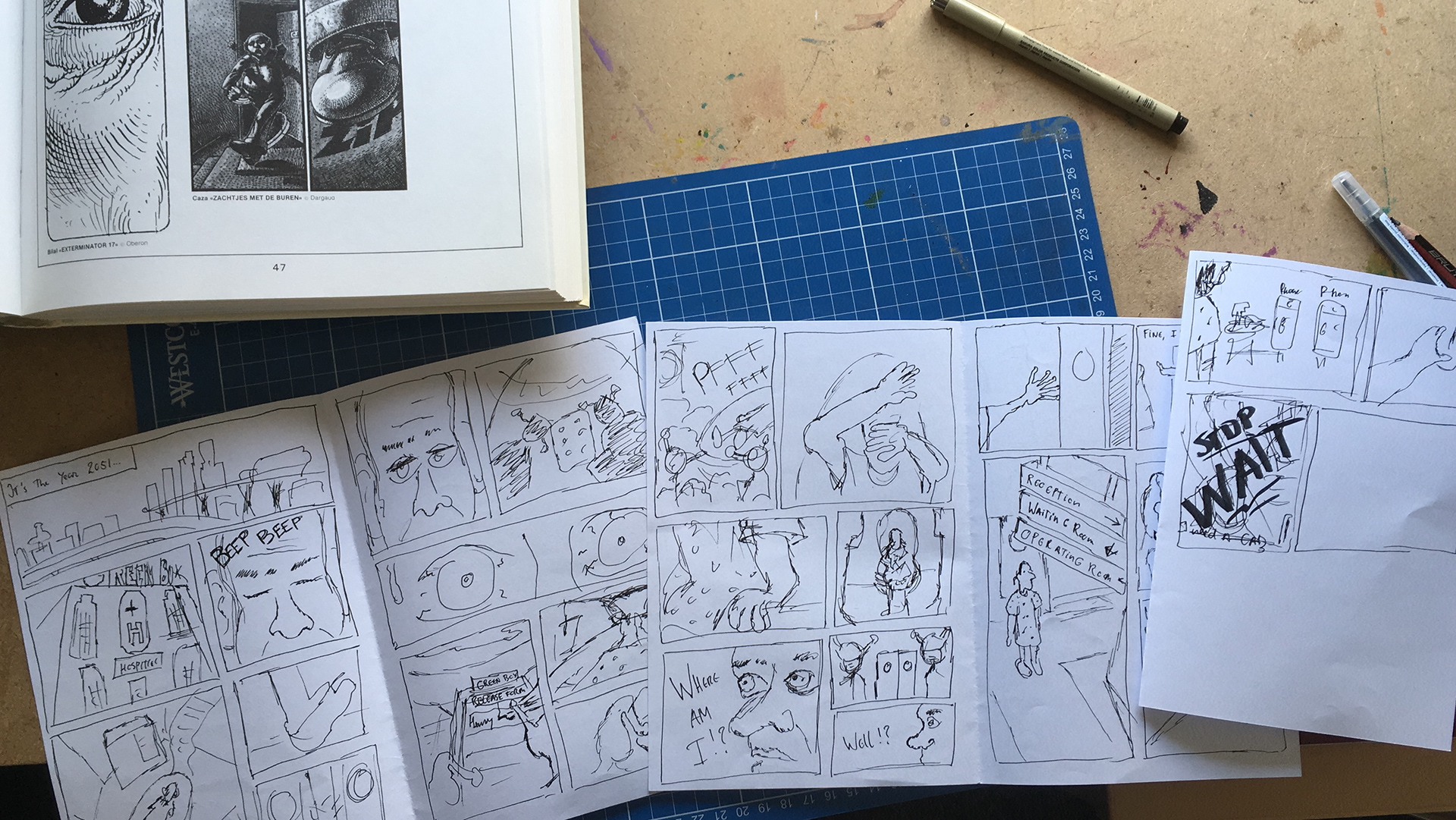 For a very long time I've been thinking about making a comic book/graphic novel, but for some reason I was always scared by the process of it. I'm that kind of person that would like to see immediately results while working on a drawing. That's just not the way how it works unfortunately. Especially when it comes to creating your own novel. It's a step by step process where everything can still change along the way. See it as a clay sculpture you keep on refining until you are happy with its final shape.
So this whole idea of creating my own novel is pretty new to me. It's a challenge I like to take on and see were it will lead me. I've never really made a book or stick to a project for a very long time. But now I feel I'm ready to take this next step and give my work a new meaning. The upcoming weeks I will be diving into storytelling, drawing stills and of course putting it all together into a nice story. As you can see above, these are some sketches for my novel. For a large part the story has been written, but I feel like there can still change a lot along the way. First let's get to the creative part; drawing!
What my story is going to be about, I'll tell you in the next post. Stay tuned!

Posted on: Monday, June 8, 2020